Auto Clicker for Mac [Advanced]
Are you looking for the best Auto Clicker for Mac? Then you have landed to the right page! We have the best and free Auto Clicker that Exclusively made for Mac OS. It is a simple Mac app that simulates mouse clicks when needed. Highly configurable and easy to use.
You can use it while Playing games like Roblox and Minecraft in your Macbook. Just Download the Auto Clicker and follow some of the instructions to use it !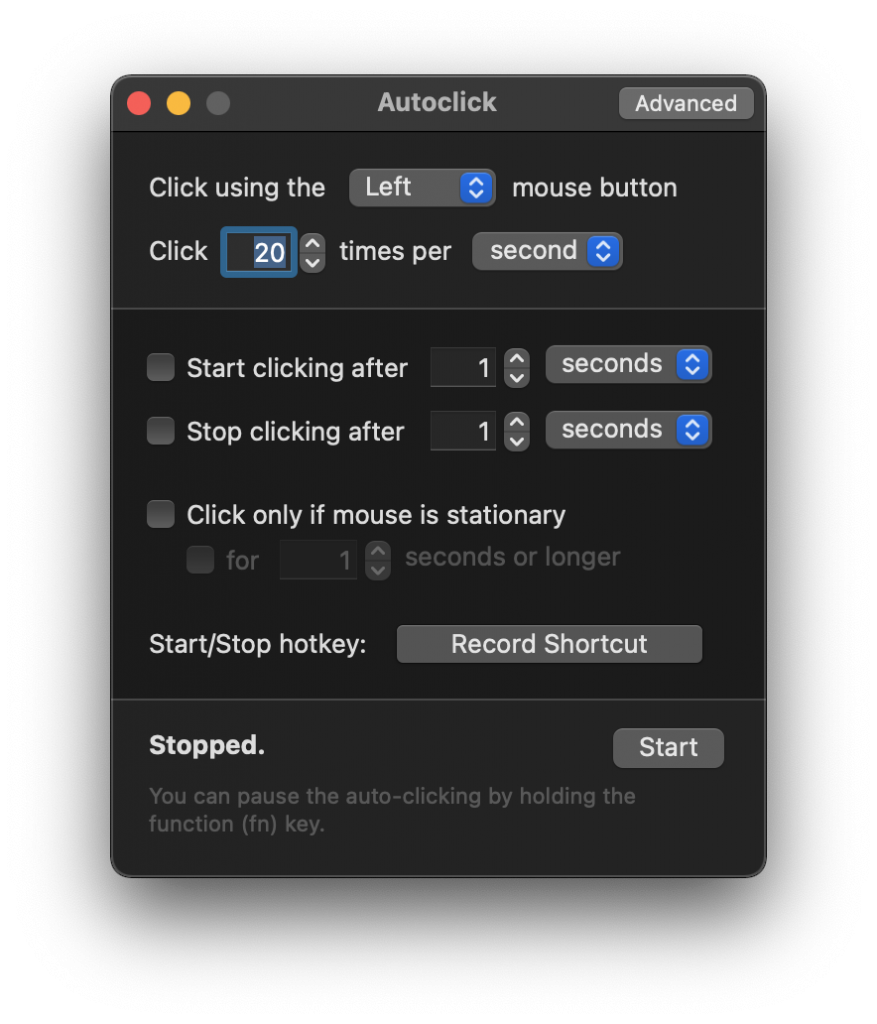 What is an Auto Clicker ?
If you want to increase your virtual abilities without spending hours of clicking, then an auto clicker is exactly what you need. An auto clicker turns the mouse into a button so that whenever you move the cursor over something, it clicks automatically. This allows you to rack up some serious experience points or level ups in no time at all!
Incase if you are a gamer you might experienced pressing the same button over and over again. May be its because you want AFK, or to get some points or farming experience points in the games like Roblox and Minecraft. Whatever the reason, there is a tool for Macbook that can help make your life easier: Auto clicker for Mac. An auto clicker is an application that clicks the mouse for you automatically, so all you have to do is set it and forget it.
So basically an Auto Clicker is a Mac OS application that simulates mouse clicks on the screen of your Macbook and allows you to automate tasks. Auto Clicker is one of the most useful tools for Macbook users, especially for those game players who often get bored for repetitive tasks / activities.
Download Auto Clicker for Mac [Advanced]
| | |
| --- | --- |
| File name | Auto Clicker [Advanced] |
| Size | 578 Kb |
| Supported OS | Mac OS |
| Developer | Mahdi Bchatnia |
| Last Update | January 20, 2022 |
Features
The one and only Working Auto Clicker for Mac OS.
It is completely FREE !
Stable and Good UI.
Simple and Easy to Use
Only 578 Kb in size.
Allow for selecting a higher rate of clicking (up to 10000 per second)*
You can use Hot Keys to record and play the mouse click activities which make it ease to use.
How to Use an Auto Clicker for Mac ?
So most important thing is you should know how this auto clicker functions and how you can use it while playing Roblox Games or Minecraft. Below are step-by-step instructions on how to get started with auto clicker: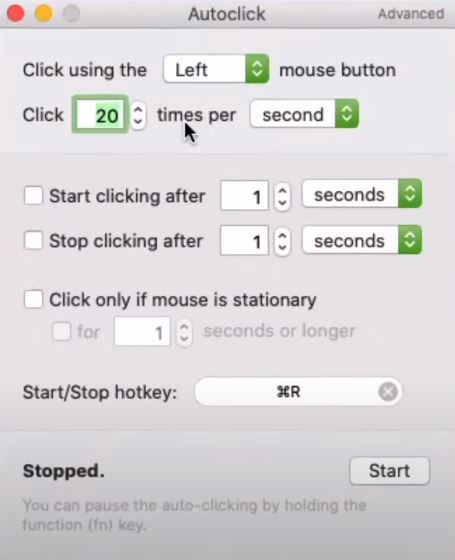 Step #1 Download Auto Clicker for Mac
The First and the foremost step is obviously you need to download Auto Clicker for Mac [Advanced]. The tool is developed by Mahdi Bchatnia. A Professional Mac OS App Developer.
(Download Link is here)
Step #2 Run Auto Clicker in your Macbook
Running Auto Clicker as a foreground or background app: It runs in both foreground & background, but only interacts with visible foreground apps. This is by design, since it is a GUI automation tool (it works with apps), not a batch/script execution engine.
So Just mount and Install it on your macbook.
Step #3 Setup Hot keys
You will find Start / Stop hot key. Which allow you to simply start recording and play it with just a keyboard key. So you need to manually record / Input any key as input and job done!. Once you decide and record the Hot key it will starts and stops mouse click activity using Hot key.
Setting Up Hot key is easy and important as While playing Roblox games or minecraft you don't like to manually click on recording button using mouse. Having Hot key setup make the job super easy.
Changelogs
2.0.4 (2021/9/6)
Fixed app not remembering your settings between restarts
App will now check Input Monitoring permission too, to make sure that you can stop the clicking with keyboard shortcuts/FN key
2.0.3 (2021/2/23)
Allow hotkeys without modifiers
2.0.2 (2021/2/17)
Better fix for multi-monitor setups
2.0.1 (2021/2/6)
Fixed cursor jumping in multi-monitor setups
2.0 (2021)
Codesigned & notarized so that it's trusted by new versions of macOS
Modernized codebase & added Apple Silicon support
Will now display the accessibility permission popup if you haven't allowed it yet
1.0 (2011)